Personal computers can access the college network by following the below steps.
If you are already in residence in College accommodation please connect your device with an Ethernet cable to the odd numbered socket in your room labelled 'computer', then turn off your Wi-Fi connection and try to open a web page in your browser. If you don't have an Ethernet cable they can be bought from the lodge, if you don't have an Ethernet port on your device then you may have to buy an adapter as well.
If you wish to register your computer for connection prior to your arrival, or wish to make use of the of this registration service to provide a basic 'health check' of your operating system and anti-virus software whilst offsite the you will also need to register for, download, install, and run the VPN software provided by the University's central I.T. Services. This process is detailed in section 2. 'Configuring Your Computer' at http://help.it.ox.ac.uk/network/vpn/index
After opening a page in your browser you'll be redirected to the registration portal, from here click College Members >>> Start. You will then be able to log in with your College username and password.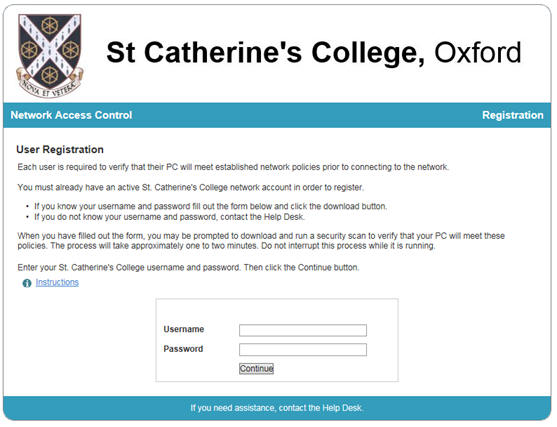 In order to complete the registration of your device you will first need to download and run a dissolvable scanner application to ensure that your device passes our security checks. Download the scanner and find and run it from the downloads folder of your web browser. If your see a warning suggesting that the scanner is a threat please ignore the advice and select 'Run anyway'.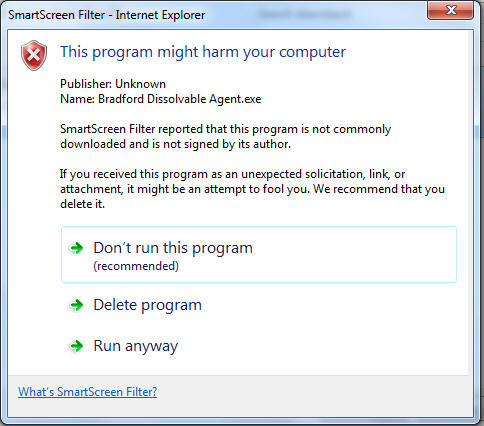 The scan will take a while to check your computer for compliance.

After the scan if everything went ok you'll find you are able to use the network freely. You may need to restart your browser.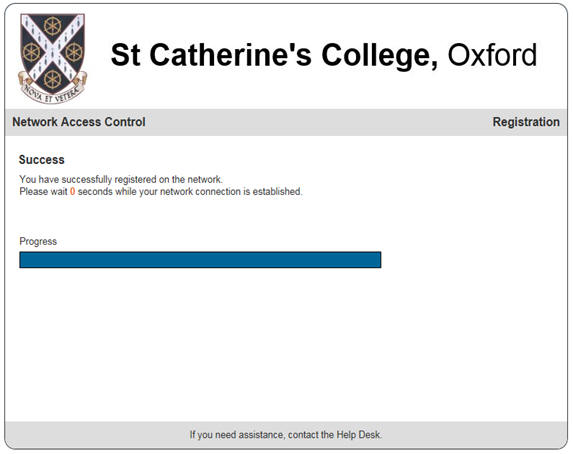 It is possible that the scanner will advise you that your computer has failed its scan and you need to carry out the suggested recommendations in order to comply with the College's network conditions of usage. To help you the portal will let you visit the necessary websites to update your computer or install anti-virus software. Once you have applied any fixes try the scan again using the same steps.
Be aware that the registration system may be slow during peak times such as the beginning of term, please be patient in this instance and try again later. If your scan was a success then you may find it helpful to either reboot or disconnect and reconnect your network cable may help after registration.
If you have problems connecting, please try the following steps before contacting the I.T. Dept. at support@stcatz.ox.ac.uk

if you are attempting to register or scan your computer at home and the dissolvable client prompts that it "cannot find the server" please enter genyornis.stcatz.ox.ac.uk as the server name.
in the URL bar of your web browser type in the address of the registration server: https://genyornis.stcatz.ox.ac.uk
try disconnecting from a wireless network or disabling your wireless network adapter whilst registering to use the wired network
disconnect the Ethernet cable from your computer, wait 30 seconds and reconnect it.
empty your web browser's cache and then restart your web browser.
ensure that your web browser is not set to use any form of proxy server.
if you have multiple web browsers and cannot successfully see the registration page, try a different browser.
try restarting your computer.
ensure that your network adapter is set to obtain an IP address and DNS server settings by DHCP – there must be no preconfigured IP addresses in use.
if your anti-virus software has the option to prevent or block web page re-direction you will need to disable this functionality in order to reach the registration page.